Leona Chin gets airborne as she connects with 420R championship leader Tan Pye Sen, leaving Halim Mu'Azzam to increase his 310R class lead.
It was blisteringly hot morning on the Sepang circuit as the Caterhams lined up for round 5, with Gilbert Ang sitting on pole position.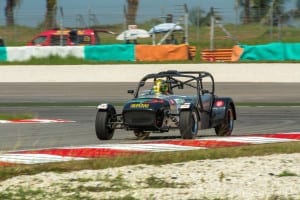 As the red lights went out it was a close sprint down the straight with Shirendra Lawrence having the fastest start jumping from 8th to 6th.
Gilbert Ang and Imran Shaharom were side-by-side heading into tunr 1 when all of a sudden Imran locked up skidding straight ahead onto the marbles, bringing his race to an end and depriving the spectators of a close 1-2 battle.
A split second after Imran's departure, Leona Chin tried to make a risky dive on the inside of Tan Pye Sen from quite a distance back. Unable to control the car around turn 1 she had no choice but to hit Pye, getting airborne and forcing both cars to spin into retirement.
By lap two Gilbert Ang was already four seconds ahead of Marcus Chye who was competing in his first Caterham Motorsport race.
Sisxteen seconds behind the 420Rs was 310R class leader Halim Mu'Azzam who was busy defending against a fast Shirendra Lawrence less than 2 seconds behind. While Sidqi and Malcolm Chang were on top off each other in a close fight.
Shirendra had a spin at turn 7 allowing Sidqi to storm past and build a comfortable gap settling in for second place.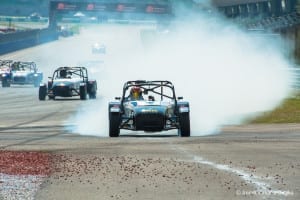 Halfway through the race Malcolm had a lonely spin around turn 9 as Gilbert had built a 9 second gap in the lead with no threat from Marcus who finished in second place.
With three laps to go Shirendra had closed the gap to Sidqi by just 4 seconds but was unable to get close enough and had to settle for a third place finish.
Gilbert Ang had lapped everyone up to fourth place to take yet another dominate win.
Halim Mu'Azzam drove a dominate race in the 310R class claiming the win.
Race to two starts on Sunday at 9:50am. Be sure to follow Pit Talk Asia on Twitter to watch the live broadcast of the grid, podium and post race interviews.