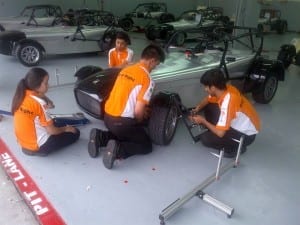 The leading automotive college in Malaysia has partnered with the Caterham Motorsport 2015 Championship to provide support for the series. Such a partnership with a race series is a first for the TOC Automotive College.
Inline with the championship's motto of being the most accessible race series in Asia, Caterham Motorsport has opened the doors to TOC to help further develop the talents of their students. Taking them away from the garage workshop to the racing circuit of Sepang to work on the Caterham race cars.
The TOC students will also learn other aspects of a race weekend besides fine tuning the race cars. This week they have been training on how to run an efficient pit garage set-up and operation, what to do for scrutineering, podium protocol, and looking after the championship drivers.
TOC Chief Commercial Officer Aien Dato' Seri Mokhtar was part of the TOC team developing the partnership. "As the pioneer in automotive education, we continuously seek opportunities for partnerships with local and international industry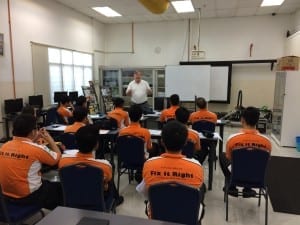 partners to allow the sharing and exchange of technology and talents.  Collaborations provide a platform for us to continue to enrich and innovate to keep our motorsports program syllabus up-to-date.  It also opens up learning opportunities through on-track experience, traveling with our partner's race team via the Apprenticeship Program during their internships.  These experiences will serve as an enhancement to our students' portfolio, which will give them an advantage in the industry even before they graduate."
Caterham Motorsport Malaysia CEO Campbell Tupling has been guiding the TOC students for their first race weekend. "After the briefing I gave the chosen students on Saturday, teaching them what the championship is all about and what is expected of them during race weekend I am confident they will perform to the best of their abilities. The students are very eager to get involved in the racing and understand the potential of this experience. We are very happy to be working with TOC and I'm sure more things will be developed through this partnership as the year goes on."