Round 6 started with the same promise as round 5: a battle royale between the two young hot shots Gilbert Ang and Imran Shaharom. And this time we weren't deprived.
As soon as the red lights were out it was no holds barred between the two drivers as they were side-by-side into turn one with Imran locking up but retaining the lead.
Leona Chin slingshot herself up the middle of the grid from last position taking a couple spots and settling in seventh.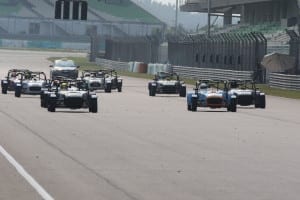 Malcolm Chang spun at turn 11 dropping him to last position as Imran kept hounding the back of Gilbert, only less than 0.100s behind.
Shirendra Lawrence attempts to pass Sidqi on the inside of turn one and outside of turn 2 at the start of the second lap but couldn't make it stick. He and Sidqi would be foxing each other for the next few laps.
Imran made a good passing move into turn four to take the lead but Gilbert stuck to him as the two exchanged positions throughout the lap.
Tan Pye Sen was driving a comfortable race 3.5 seconds in 4th, while 310R leader Halim Mu'Azzam had a 7 second lead over Sidqi who was fighting hard with Shirendra.
Imran began to pull away slowly but by just over 0.100 seconds. Although on lap four Gilbert set himself up wide into turn 15 for a solid exit and pulling out of the draft to drag Imran down the straight but can't quite make it stick around turn one.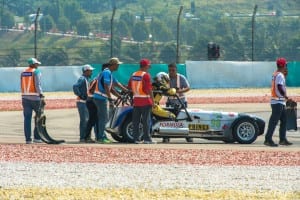 It wasn't until turn 7 that Gilbert mad his passing attempt stick as Shirendra spun at turn two dropping to last position.
All through turns 5, 6, 7 and 9 we had a different leader as the battle between Gilbert and Imran continued and the mid field drove a steady race.
On lap five it was a pure sprint as both drivers where dead equal with Imran on the inside- who was going to give in? And once again Imran's accelerator pedal jammed, locked up and overshot turn one with no option but to spear into the gravel and retire.
This gave the race to Gilbert Ang as Halim cruised to victory in the 310R class by 11 seconds.
With just a couple of laps remaining Sidqi spun at turn 11 dropping him to last and promoting Leona who was now hot on the heels of Malcolm Chang.
Trying everything she could over the last two laps Leona makes a move on Malcolm at turn 8 as he spins, claiming second position in 310R, and Shirendra dives under Sidqi at turn one.
FINAL RESULTS:
420R
1. Gilbert Ang
2. Marcus Chye
3. Tan Pye Sen
310R
1. Halim Mu'Azzam
2. Leona Chin
3. Malcolm Chang