The Caterham Motorsport 2015 Championship is proud to announce a partnership with Malaysia's leading lubricant manufacturer Prince Lubricants.
The partnership will see Prince Lubricants as the official "Championship Lubricant" with ample branding on all the Caterham cars racing in the new Asian series, amongst other key benefits including a comprehensive PR and social media campaign.
Prince Lubricants has been the strongest lubricant supporter of Asian motorsport and motoring events for the past two years, quickly establishing a massive following in the four-wheel community and increasing their market share across Asia and beyond.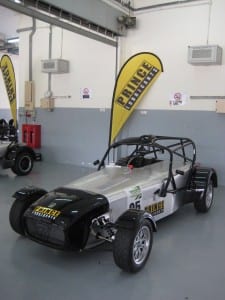 The partnership joins two great Malaysian brands that will be working together to expand their presences internationally.
Speaking of the new partnership, Caterham Motorsport Championship CEO Campbell Tupling says, "It's great to have a well-known brand such as Prince Lubricants on board with our Championship. We have developed a very positive business strategy with Prince for a long-term relationship that will see both parties grow their business exponentially over the next few years."
Prince Lubricants CEO Dato Patrick Chong is also upbeat about the partnership stating "Prince Lubricants is pleased to associate itself with an iconic brand like Caterham for the Caterham Motorsport 2015 Championship series. We are looking forward to a very competitive and highly successful year."
The Caterham Motorsport 2015 Championship got off to a flying start at the end of April as a support race to the Malaysia Championship Series. The next round will be at Sepang International Circuit on June 5-7.