* Full interview videos will be published soon.
The Caterham Motorsport 2015 Championship kicked off this weekend at the Sepang International Circuit, making this the first Caterham Championship to be run in Asia.
After a week of testing and open practices all the drivers were keen to get onto the track in full force for the inaugural Caterham Championship race.
In typical Malaysian fashion the heavens opened right at the start of Friday qualifying at 4:45pm. Everyone involved was worried that the qualifying would be cancelled due to the heavy downpour but after 15 minutes the session was green flagged and the drivers went out for a slow, wet qualifying.
MSS GT veteran driver Adrian D'Silva took the honours of the Championships first pole sitter in his 420R with Tan Pye Sen lining up beside him. Rejoining a race series after a few years out of the cockpit Tan Sri Azman Yahya took third position followed by Patrick Ng in fourth, rounding out the 420R class and Dato Halim Mu'Azzam in fifth overall and first in the 310R class. The Championships only lady driver Leona Chin secured second in her 310R with Sidqi Ahmad, Shirendra Lawrence from Sri Lanka and Bill O'Brien rounding up the field.
RACE1.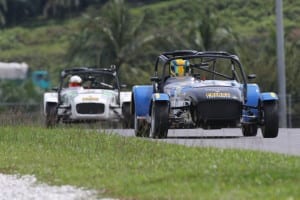 In perfect sunny and hot conditions race one started with the three powerful 420Rs of Pye, Adrian and Azman fighting a tight battle into turn 1. Leona Chin was slow off the line allowing car #41 of Sidqi Ahmad pulling out of her slip stream and diving on the inside at turn 1 dropping her down one position.
The battle at the front was intense between the three 420Rs side-by-side and foxing each other through turns 5, 6, 7 and 8, while Leona Chin going wide at the turn 9 hairpin dropping another position.
Lap two saw the first incident of the Championship with race leader Adrian D'Silva locking brakes into turn one catching Tan Sri Azman off guard forcing him to lock and hit Adrian from behind. This resulted in a leaking radiator and worn tyres for Azman making his car hard to handle as Adrian and Pye sped off into the distance. Speaking about the start of his race Tan Sri Azman was having a very close battle with Adrian: "We had a very exciting first two laps. Adrian and I were swapping positions and parallel nearly every corner. I took Adrian in T4 on the first lap and he took me back on the back straight. Approaching him into turn 1 Adrian locked up and I was a bit disoriented and locked up as well and basically whacked him. From then on my radiator leaked and the tyres were worn slightly and the car was completely undriveable, so I just finished the race."
Adrian D'Silva talks us through the turn one incident: "I had Azman and Pye right behind me and I had to brake a little bit later to keep them at bay and I locked up. I didn't realise Azman was right behind me who locked up as well and took me at the back and it turned my car around and next thing I know I saw Pye head on towards me. I think he took my side. Fortunately we managed to get our cars going again and we caught up and continued with our race."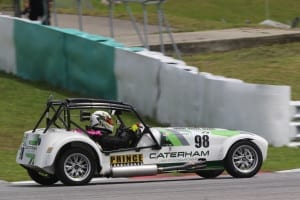 Further down the field in the 310R class another close battle was being fought between Halim Mu'Azzam and Leona Chin. Leona only less than half a second behind Halim was trying everything she could to pass car #41, ducking and diving under brakes but the 28 year old Malaysian couldn't find a way past.
Car #3 of Pye made a tight pass under race leader car #27 of D'Silva at turn 1 on lap 3. Their battle continued with D'Silva hot on Pye's heels only 0.800s behind.
The other Supersports of Sidqi Ahmad, Shirendra Lawrence and Bill O'Brian were having lonely races with 14 seconds between them.
Approaching turn one on lap 6 D'Silva dips out of Pye's slipstream diving on the inside but unable to make it. D'Silva finally gets past Pye during that lap with Pye trying to recover with a pass at turn 14 but goes a little wide leaving D'Silva to hold the inside line and storm away building 1.1s gap across the line.
Bill O'Brian being lapped holds up the battle for first position at turn 14 giving Pye another opportunity to make a move on the race leader but D'Silva holds his ground and maintains the lead. Bill then pulls into the pits retiring his 310R.
Adrian D'Silva continued to build a gap on Pye and crossed the line to take the chequered flag 9 seconds in front with Tan Sri Azman Yahya finishing over one minute behind in third.
The battle for the 310R win was close as ever but Leona had a spin trying to pass Halim at turn 14 giving him the 310R class win.
Sidqi Ahmad finished behind Leona to secure third place in the 310R class with Shirendra rounding out the field.
RACE 2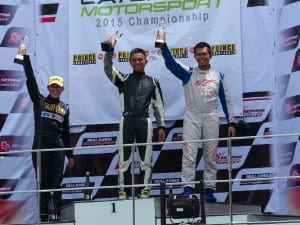 The second race of the Caterham Motorsport 2015 Championship proved to be quite a dizzy race as several drivers had their fair share of spins.
Tan Pye Sen started on Pole as Adrian D'Silva had to sit out this race. The start saw Pye storm off into the lead with Tan Sri Azman Yahya close behind but unable to challenge for the lead.
Leona Chin was hot on the heels of 310R class leader Dato Halim Mu'Azzam and forced him into an error at turn 9 that saw Leona pass the spinning car #41, along with Shirendra Lawrence and Sidqi Ahmad also passing to take second position and third positions respectively.
Bill O'Brian had a scare with a spin at turn 1, rejoining the race one position down in seventh.
Pye had built a lead of just over 6 seconds to Azman as Shirendra was making ground on 310R leader Leona Chin. Would this be the first time a lady driver wins a Caterham Championship race?
Halim had dropped to the back of the field and was on fire reeling in Bill O'Brian, passing him on lap 5 at turn 15. Meanwhile Sidqi had a spin at turn one allowing Halim to pass and take third position. He wasn't going to settle their and was doing everything he could to catch the 310R battle for the lead.
Shirendra made 4 seconds on Leona during lap six, bringing him to within 3 seconds of the Malaysia driver. Halim also caught the 310R leaders but spun again at turn 9. Shortly after that Bill O'Brian spins again at turn 12.
By lap seven Shirendra Lawrence had caught Leona Chin and was only 0.800s behind, looking for the right opportunity to pass. He found that opportunity at turn 1 with Leona fighting back through the S-bend but unable to make the pass stick. Leona persisted and foxed Shirendra all the way up to turn 4 trying a move on the inside but unable to make it stick.
On lap eight Leona's pressure on Shirendra had taken effect as he spun at turn 9. Leona had regained the lead. This allowed Halim to catch Shirendra but couldn't pass him as Halim spun at turn 14.
Azman Yahya was pulling out fastest laps in his pursuit of the 420R class leader Pye but his three consecutive fastest laps weren't enough to catch him as Tan Pye Sen took the chequered flag only 6 seconds in front.
Shirendra was pushing as hard as he could up to the last lap to catch Leona but spun at turn 9 giving second position in the 310R class to Halim. Leona brought the 310R safely home to win that class while Sidqi Ahmad and Bill O'Brian finished in sixth and seventh positions.
Caterham Motorsport Championship CEO Campbell Tupling couldn't have asked for a more exciting start to the Championship. "I'm very proud and relieved that we finally got the championship started this weekend. Congratulations to our winners, especially our first female winner Leona Chin. Both races were very exciting and all the drivers were great, proving that the Caterham Championship is one of the best one-make series in Asia. I'm sure this exciting racing will encourage more drivers to join the series and we're all looking forward to the next round."