Lightweight (530 kg) race proven Series V factory-built race car with: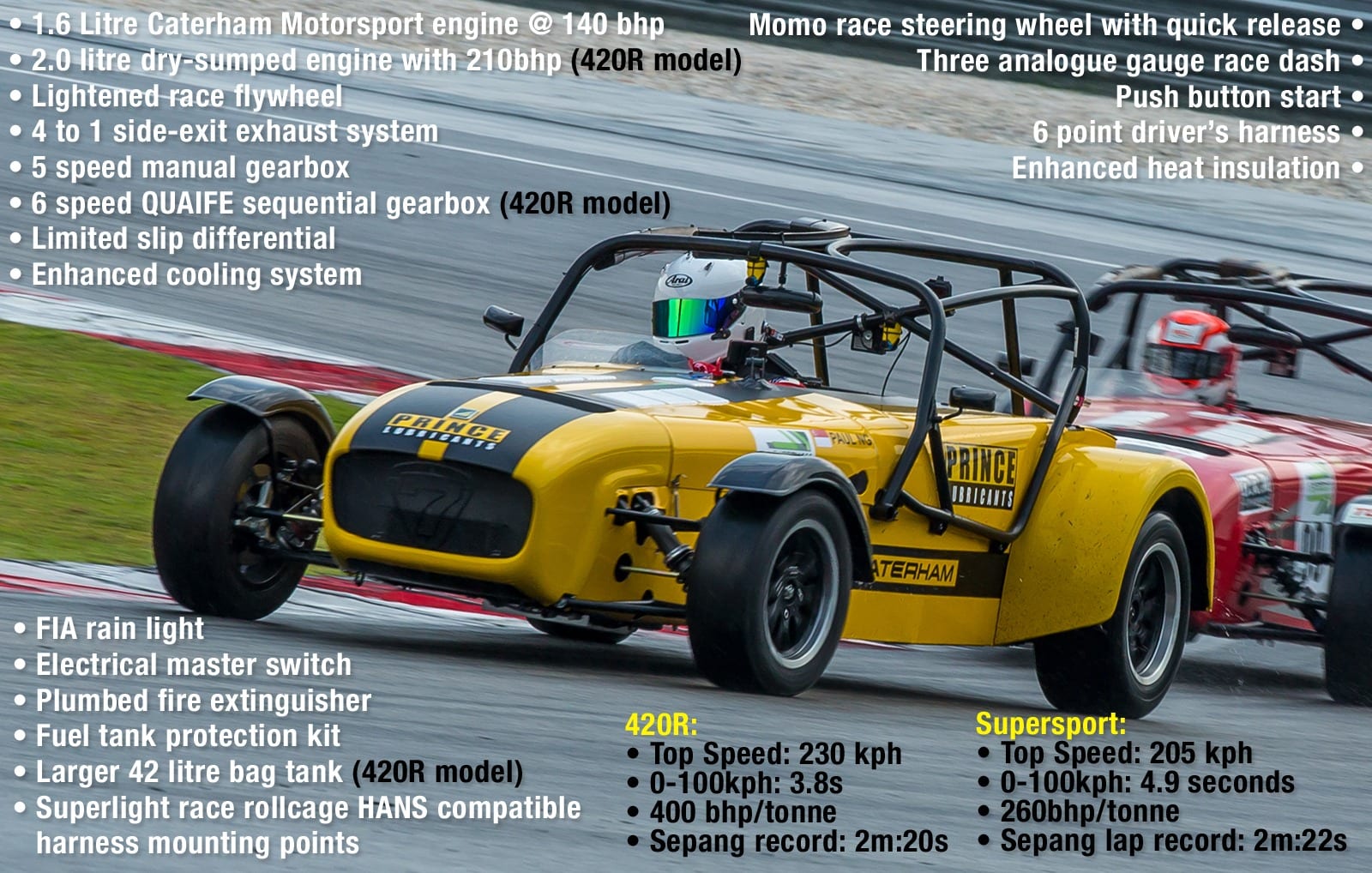 RACING CAR PLUS 2019 CHAMPIONSHIP PACKAGE INCLUDES:
RACE CAR
* 310R: £26,500 (+10% Tax)
* 420R: £36,500 (+10% Tax)
CHAMPIONSHIP FEE (5 events/10 races): rm42,500
TYRES
* 310R (Hankook z205) per set: rm2,400
* 420R (Hankook z209) per set: rm2,600
RACE EVENT SERVICE FEE (per weekend): rm1,800
CAR STORAGE & MAINTENANCE (per month)
* 310R: rm850
* 420R: rm950
TESTING
* Track day support: rm500
* Per test session (one hour): rm400
Not included:
* Seat: Tillet- £600 or Bag rm1,200.
* Car striping/wrap: rm1,500 to rm5,000.
* Driver's personal gear.
* Accident damage (parts and non race weekend labour).
* Driver race license.
* Extra costs (car transportation etc) for non SIC events.
* Car transportation to/from SIC for cars not stored at Caterham SIC garage.
* Transponder: rm500 per year.
BENEFITS
The Caterham Championships aim to offer benefits not experienced in other Asian race series.
We can achieve this because of our direct relationship with the Caterham Group.
With the on-track hospitality, track days and social events, the Caterham Motorsports Asia Championships will evolve into more of a fun, social club for racing drivers.
More details of benefits will appear here as we confirm partners over the coming months.