­­­­­­Another thrilling race for the 310R class today at the Sepang International Circuit, whilst Tan Pye Sen dominated the 420R class, being the only driver to clock 2m:22s.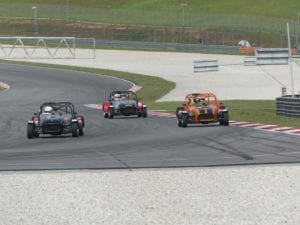 Starting second on the grid, Arnaud Dupuis fought Pye in the early stages of the race, sticking to within half a second, but it wasn't good enough to match the on-form Tan Pye Sen who gradually built his gap to four second and take the win.
Pye drove another dominant win in race two, with Arnaud and Paul finishing the top three.
The most improved driver, Paul Ng finished in third place and scored his fastest ever laps in the championship, breaking the 2:30 mark with a 2:29.
After storming off into the lead, and having no threats for the whole race, Sidqi Ahmad dominated the 310R class and took a lights to flag win in respectful fashion.
The real fight was for second position as Peter Reynolds and Shirenedra Lawrence was neck-a-neck for the first half of the race, exchanging positions no less than twice each lap. But this battle was enough to allow rookie Henry Davis-Goff to creep up to the fight.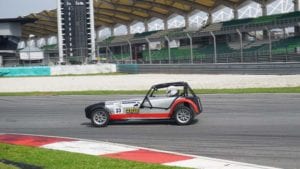 Henry, having not raced in cars before, and this being his first race, was the most impressive driver of the day. After a nervous start and passing Sheran Fernando for seventh overall after the first lap, Henry used his motorcycle racing skills to find the fastest line around the Grand Prix circuit and start fighting for second.
All three cars of Peter, Shirendra and Henry were less than one second for a few laps until pack leader Peter spun at turn 9, allowing Shirendra to take second with Henry keeping calm to avoid the spin, following right behind.
Again, it was multiple exchanges for second place between Shirendra and Henry, whilst Peter regained the pack with only three laps to go.
A fired-up Peter Reynolds wasn't going to hold any prisoners and took it straight to Henry to regain second position on the inside of turn 10, a very rare move seen in the Caterham Motorsport Championship.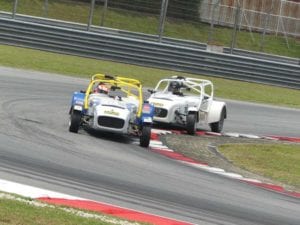 It seemed that turns 1 and 15 was Henry's favourites as he was able to regain and defend his second position there on every lap from then on. Although losing back to Peter mid-way around the track, Henry was able dive on the inside of both corners.
The last two laps saw Henry Davis-Goff drive a brilliant defensive race to hold of Peter Reynolds to claim his first win in his first ever race, with 2017 310R champion Shirendra Lawrence taking third spot.
Unfortunately, Henry wasn't able to capitalise on his race one result and had to retire in race two after suffering a broken A-frame. But he was impressed with the Caterham weekend: "It was really really fun. I had such a great time in my first race weekend with four wheels. The racing was close and very exciting."
In race two the field was more spread out with Sidqi winning again in dominant fashion, followed by Peter Reynolds and Shirendra Lawrence.