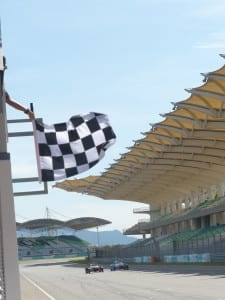 With a full grid for race nine of the Caterham Motorsport Championship it was no surprised that we witnessed the most exciting race of the year with top podium positions in both classes being determined on the last lap.
The crowd were on their feet as Marcus Chye attempted a final slipstream pass in the final metres of the race to cross the line in a photo finish, being only 0.010s in front of leader Gilbert Ang.
From the start it looked like it was going to be another pole to flag win for the dominate Gilbert Ang in the 420R class, but halfway through the race Marcus Chye found the speed and was closing in almost 1 second a lap.
Gilbert's championship rival Tan Pye Sen was sitting in a comfortable third, unable to keep the pace with the two front runners, and eventually succumbing to tyre failure on the last lap, allowing fourth place Azman Yayha to cruise past for third.
The 310R class produced amazing racing with three cars battling it out for third position for the whole race.
Although Mikko Nassi stormed off into the lead to win another dominant race, it was the battle between Sidqi Ahmad and Sri Lankan Shirendra Lawrence that stole the show.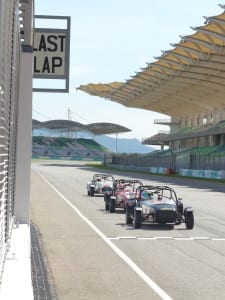 Fighting behind second place finisher and class championship leader Halim Mu'Azzam, Sidqi and Shirendra's battle was so close they were exchanging positions almost every corner. It didn't matter who crossed the line for official time placing because each lap third position changed at least 10 times.
With Leona Chin sitting in last place for most of the race, it looked like her second position in the 310R championship was lost. But being a strong and determined racer paid off as Shirenrda Lawrence tapped the back of Sidqi as he attempted to dive on the inside of turn 2 on the last lap sending both drivers into a simultaneous spin, allowing Leona to cruise past and finish third.
The Caterham Motorsport Championship lived up to it's reputation of being one of the most exciting single-make race series in the world today with the amazing battles and edge-of-the-seat exciting finishes today.
Race 10 will be on Sunday at 10am at Sepang International Circuit, Malaysia. Free entry. For all the race videos, galleries and results please visit the official website at www.caterham malaysia.com.