The final race of the weekend for the 2017 Caterham Motorsport Championship was nothing short of a thriller.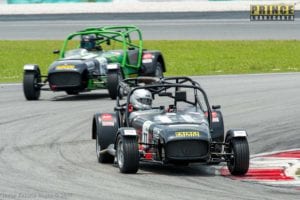 Racing in the scorching mid-afternoon heat at Sepang, on a blistering track of 55-degree heat, all drivers were keen to finish the weekend with a win.
Race 3 entertained the crowd with four separate battles, with each two-car fight being less than 1.5 seconds apart. The fight for the 420R win between eventual winner Rocky Siow and Arnaud Dupuis was never greater than a 0.150s gap.
Overtaking each other at least twice a lap and only centimetres apart, the two 420R winners weren't going to let each other out of their sights as they both fought hard for the last win of the day as second place Arnaud explained after the race: "I liked it very much. Fighting every corner, exchanging positions many times, at least one or two times each lap. I was very low on brake, but if I brake too early he would have passed and I have no chance. So I tried to postpone, postpone, but I did not make it, so I went straight off. But if I don't do it he would have taken the inside, closed the door and win the race anyway, so I had to try."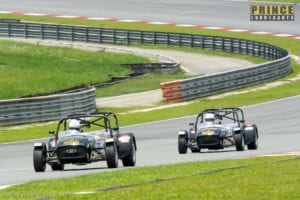 Once again, the 2015 Caterham Motorsport champion Halim Mu'Azzam got off to a flying start, but was soon caught by rookie Ivan Petev who closed the gap from 3 seconds after a bad start, to hound the champion for the second half of the race.
Both drivers were side-by-side several times throughout the race until the final lap when both drivers were almost side-scraping through turns 5 and 6 with Halim on the outside, clipping the curb and spinning, letting Ivan relax and cross the line for his first race win in only three attempts.
"That was a lot of fun," said an exhausted Ivan. "I've been getting a lot of lessons on racing which is good. Halim got on inside of turn 5 after my bad exit on turn 4, but I thought I will stick with him because turn 6 is coming up and I'm going to be on the inside. So I took turn 5 on the outside next to him which took me on the inside of six next to him. Maybe he got onto the curb because next thing I see is him spinning behind me."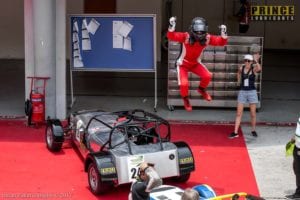 After a slow start and a spin, Shirendra Lawrence had a lot of hard work to do to catch the battle for second place in the 310R category. Eventually catching third place sitter Jean Charles Dahout, the two drivers had everything to fight for in their quest to grab the third spot on the podium, with Shirendra holding on to finish third.
Asked if it was a fun race Shirendra replied: "Big time, big time. It was nice. Jean got much faster in the race. Once I spun and rejoined, we had the same pace and it was harder from that point. Waiting, being patient and judging when to slipstream and pass was a fun part of the race. So we had a good time."
Even though Sheran Fernando and Sophia Low were at the back of the field, they both had to work as hard as the front runners as they had their own fight. With less than 0.500s between them, both drivers passed each other several times before Sophia once again pipped Sheran by only metres at the chequered flag.