Exciting Start to the 2017 championship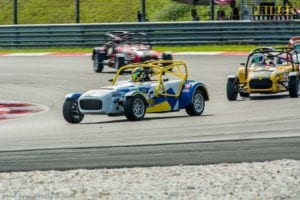 Click here for Race 1 gallery.
The 2017 Caterham Motorsport Championship got off to an exciting start today as Race 1 provided us with plenty of thrills and spills.
This weekend the championship welcomes four new drivers to the grid- Sophia Low, Ivan Petev, Paul Ng and Jean Charles Dahout.
Pole sitter Arnaud Dupuis got off the line slow once the red lights were off, allowing 310R pole sitter Halim Mu'Azzam to fly through the middle of the top two 420Rs, relegating Rocky Siow to third.
The last half of the race was nail-biting action as the two 420R leaders Arnaud and Rocky where all over each other, exchanging the lead three times a lap around turns 1, 3, 4 and 9, and no further than 0.400s apart.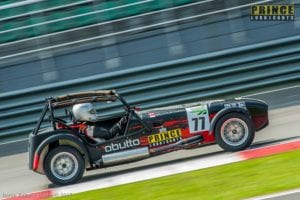 On the last lap, Rocky was able to position his 420R to force Arnaud on the inside approaching T9 and locking his brakes, ending in a spin and having to settle for second place.
Halim drove an impressive race, dominating the 310R lead to win the race by over 1 minute. For the first three laps of the race the Superport winner was sitting comfortable in second place overall, splitting the two 420Rs of Arnaud and Rocky.
Halfway through the race Sidqi Ahmad was heading into T15 too fast, locking and hitting the rear-end of fellow 310R racer Shirendra Lawrence, sending the Sri Lankan into a spin and ultimately a DNF.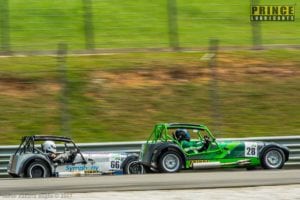 Sidqi had to serve a drive-through penalty that relegated him to third last, but was able to fight back in the last few laps to clinch third place.
New to the Caterham Motorsport Championship but a seasoned racer, Jean Charles Dahout drove a steady race to finish a comfortable 7th place, while Sophia Low, racing in her very first race, showed a lot of promise finishing in 9th.
Click here for the full gallery of Race 1 photos.