Fans watching Race 2 of the 2017 Caterham Motorsport Championship were treated to another intense battle as the lead for the 310R class was a three car battle for over half the race.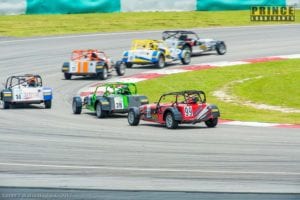 As Arnaud Dupuis controlled the lead in the 420R class, fending off Rocky Siow for the win, Halim, Sidqi and Ivan Petev who were within 1 second apart, fighting for the lead in 310R after Shirendra Lawrence had spun at turn 14.
The 310R battle lasted for four laps until Sidqi attempted a passing move along the long sweeping turn 5 inside newcomer Ivan Petev, but was forced onto the slippery curb spinning and hitting the wall, ending his race.
Sidqi's retirement allowed Ivan and Halim to fight for the 310R win over the closing three laps. In his first race ever, Ivan put up an impressive fight to stay hot on the heels of experienced champion Halim Mu'Azzam.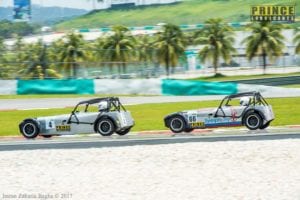 With the lead changing at least twice each lap it was anyone's race, until Ivan tried a desperate move on the outside of turn 4 on the last lap and unable to make it stick, forcing him to slow down to avoid a spin, allowing Halim to secure the win.
There was another exciting battle further down the grid with rookie Sophia Low and Sheran Fernando exchanging places several times each lap. Sophia improved on her first race result and was able to pip Sheran by just under one second to secure 7th place, while Jean Charles Dahout had an unfortunate spin on the last lap.