When 19 year old Gilbert Ang entered Race 3 of the Caterham Motorsport Championship earlier this year as a guest driver, everyone was unsure how he would perform in a car he hadn't driven yet and whether or not he could take on the veteran racers in the super fast 420R class.
Not only did he blast away into the lead, winning the race by an amazing 1 minute and 18 seconds from his nearest class rival Tan Pye Sen, but he went on to win the other 5 races of the year in extraordinary dominance. To be far to the other drivers, there were a few 420R competitors who had to miss out on some rounds during the year. But by no means should that take anything away from how this star driver has been performing.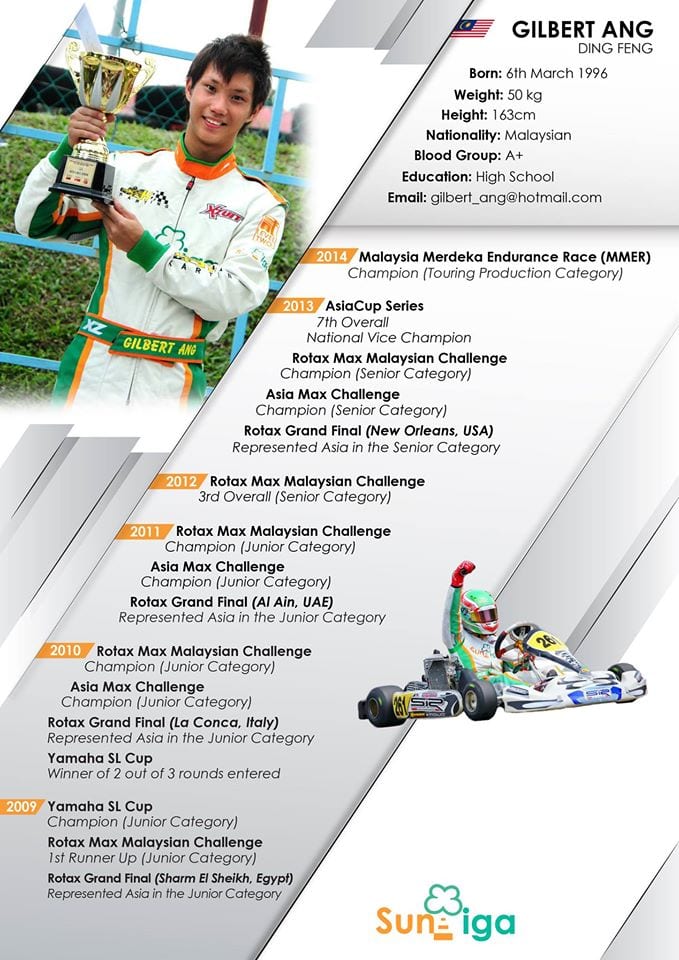 This stretch of 6 wins in a row has given Gilbert a 29 point lead in the 420R class, and has been enough to include him into the full championship. So now he is no longer a guest driver but now racing to become the inaugural winner of the Caterham Motorsport Championship.
"After entering as a guest, I felt great being part in the championship. This championship series is a great place for me to develop myself," Gilbert tells me.
At the age of 19 Gilbert has built an impressive racing CV that any teenage Asian driver would envy. From winning multiple Junior and Senior karting Championships in Rotax Max and the Yamaha SL Cup from 2009 to 2013, to becoming the youngest winner of the Malaysia Merdeka Endurance Race (MMER) last year in the Touring Car Production Category.
But has the Caterham 420R been the most exciting race car to drive? "Yes I do enjoy it. It's exciting because the car handles really well, and the corner speeds and the top speed is fast compared to many other cars. This is a great car to learn from as a beginner. I usually stay focus and prepare myself, always trying to improve."
With only four races to go and 60 points up for grabs, Gilbert is far from taking it easy, especially with his nearest rival Tan Pye Sen only 29 points behind. "It's great to have more competition. It motivates me to work harder and focus on the race. I have been doing lots of physical training the past few months keeping myself mentally and physically fit for the upcoming races. Yes I am looking forward to that. I believe this going to be a great weekend."
With his sights set on GT racing next year, Gilbert is appreciative of how the Caterham Motorsport Championship has helped develop his racing skills, and going by the way he's been so dominant and super fast these past six races, I'm sure we'll be seeing more of Gilbert Ang on the top step of the podium in whatever he races in next.
Races 9 and 10 of the Caterham Motorsport Championship will be run this weekend at Sepang International Circuit, along with the Asian Le Mans Series, Malaysia Championship Series and Asia Classic Car Challenge. Entry is free.
For more news, stories, galleries and videos of Asian motorsport, be sure to visit