High-end luxury watch brand BRM Chronographes has signed to become Official Timekeeper for the Prince Lubricants 2016 Caterham Motorsport Championship.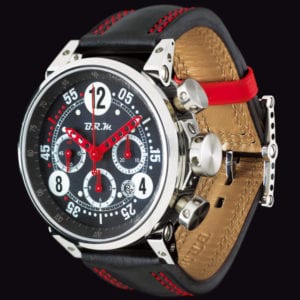 The partnership includes BRM Chronographes presenting the two Caterham Motorsport class champions each with a limited edition watch at the end of the season. The championship prizes are worth over rm40,000.
The luxurious French watch brand is famous for their involvement in motorsport across the world, with official partnerships with 14 championships, 6 international rallies, 5 international circuits, 16 drivers and 4 car brands.
Their portfolio of official partnerships includes such famous names as the World Series by Renault, 24 Hour Series by Creventic, Corvette Racing and Gulf.
"In line with our moto "Pure Racing Spirit", we believe BRM would be the brand that every car and bike enthusiasts will be proud to be associate with," said BRM Malaysia CEO Vincent Chin. "And as Caterham is the most raced car in the world, the partnership with this manufacturer who has such an important heritage in motorsport, would definitely further enhance BRM's brand."
Caterham Motorsport Asia CEO Campbell Tupling is excited about the partnership: "This partnership with such a luxurious brand as BRM Chronographes is another exciting step towards building the Caterham Motorsport Championship into one of the biggest one-make series in Asia. BRM's dedication to motorsport and their precision technology are a perfect fit for such a historical motorsport brand as Caterham. A big thanks to BRM founder Bernard Richards and Malaysian CEO Vincent Chin for this opportunity."
This year sees the Prince Lubricants 2016 Caterham Motorsport Championship travel to Thailand for races 5 and 6 in September, as the next step in further expanding the championship across Asia.
The next event for the championship will be held at Sepang International Circuit on the weekend of July 30th. For more information about the championship and how to join please visit www.caterhammalaysia.com