Words: Ben Potter.
Photos: Udo Kraus.
With a dry track, Race 4 was promising to be a closely fought battle at the front with Tan Pye Sen ready to take on pole sitter Gilbert Ang for maximum points.
The start was a tight battle with seven cars jostling for position going into turn 1. Gilbert was able to fend of the Pye's challenge through turns three and four. But Pye wasn't going to let Ang off too easily and tried ducking on the inside at turn 9, unable to make it stick. For next four laps Tan Pye Sen would keep Gilbert Ang honest, hounding him from only 1 second behind. Now we had a battle.
The battle for 310R honours was again down to the rivalry of Leona, Halim and Shirendra as Leona and Halim both pass Shirendra at turn nine. As the pair slowly left Shirendra it was exciting to watch as they were side-by-side into the flowing bends of the south part of the circuit with Halim attempting an unsuccessful dive at turn 10. Not giving up, Halim had a fast exit out of turn 14 that enabled him to claw past Leona down the back straight but unfortunately overshooting the last hairpin turn 15 opening a gap for Leona to retake position. This back-and-forth battle would continue for the next few laps.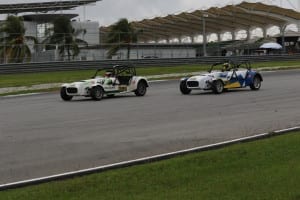 As the battle for second position in the 310R class continued to entertain, class leader Imran Shaharom was driving a strong, yet lonely race trying to catch the 420Rs ahead.
Shirendra Lawrence catches the battle for 310R second but spins at turn 6 trying to make a move on Leona Chin.
Past the halfway mark of the race and Gilbert asserts his dominance by pulling away a five second lead over Pye and a 29 second lead over 420R third place Desmond Ng, while Shirendra has a couple more spins, pushing his 310R to the limit.
Timing his defence and attacks just right, Halim finally breaks away from Leona building a strong 6 second lead that would secure second place in class as Imran Shaharom crosses the line to win his second 310R race of the weekend, with Leona finishing third.
Gilbert Ang was once again too strong and took the chequered flag 16 seconds ahead of championship leader Tan Pye Sen, with Desmond Ng crossing the line a further 23 seconds behind.
Full results and lap times here.