Pumped up from his extraordinarily close win in race one, Marcus Chye was determined to finish on the top step of the podium again in race two as he bolted off the grid to lead Gilbert Ang and Azman Yahya into turn one.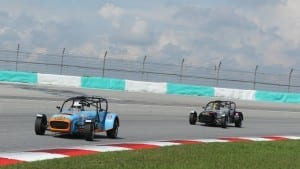 Tan Pye Sen would take third position as Azman Yahya spun at turn 5 onto the grass and recovered at the back of the field behind the battling 310R class were Sharindra Lawrence and Sidqi Ahmad had overtaken Leona Chin and were fighting it out for third in class.
Gilbert took the lead with an inside move on Marcus and the two would exchange positions a number of times throughout the race. Marcus didn't let Gilbert run away with the lead and made a dive on the inside of turn 1 to overtake the young driver.
While Mikko Nassi stormed off into the distance in first position in the 310R class, and Halim Mu'Azzam sitting in a comfortable second, it was another bumper-to-bumper fight between Sri Lankan Sharindra Lawrence and Sidqi Ahmad with both drivers passing each other nearly 6 times each lap.
As Azman Yahya sliced his way through the field to regain the 420R class in fourth, race leaders Marcus Chye and Gilbert Ang continued to provide an exciting battle for the lead with each driver making daring moves into turn 9 and turn one. It was shaping up to be another photo finish.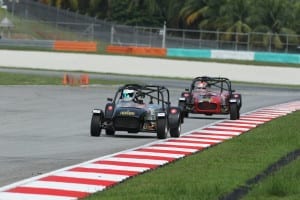 Gilbert had taken the lead with two laps to go and on the last lap Marcus once again took a wide line into turn 15 to set himself up for a fast exit and final drag towards the chequered flag, but Gilbert was well aware and slowly moved across, closing the door and securing the win with Tan Pye Sen in third.
Sharindra had a moment on the last lap giving Sidqi enough space to cross the line in third while Mikko Nassi and Halim Mu'Azzam finished in first and second yet again.
Another edge-of-the-seat exciting finish for the Caterham Motorsport Championship, with the final two races to come, supporting the Sepang 12 Hour in December.