AirAsia- the world's best low-cost airline- has become the official airline partner of the Caterham Motorsport Championship-the most accessible single-make race series- which will head to Thailand this weekend for the Thailand Super Series.
Keeping in line with their plans to expand across Asia, this will be the first time that the Caterham Motorsport Championship will travel outside of Malaysia.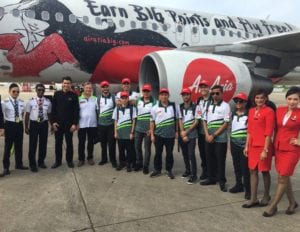 AirAsia will work with the Caterham Motorsport Championship to further promote its Asian destinations through an integrated marketing strategy, which includes on-track brand activation, video production, social media and PR.
Rudy Khaw, AirAsia Group Head of Branding is excited about the new partnership: "This is a very unique and exciting partnership for AirAsia as we continue to reach out to new demographics. This partnership will enable us to build content that will be accessible in the future to our guests via our in-flight entertainment platform RoKKi."
Heading this new travel adventure is the Caterham Motorsport Championship CEO- Campbell Tupling: "Being a Malaysian based race series looking to travel across Asia, it was obvious that we should partner with the country's leading low-cost airline. We have some very exciting plans for this partnership and I extend my warmest welcome to the Caterham family to AirAsia."
Races 5 and 6 of the Prince Lubricants 2016 Caterham Motorsport Championship will be supporting the Thailand Super Series at the Bira International Circuit in Pattaya this weekend from September 9-11. The races will be live streamed on the Caterham Malaysia website at www.caterhammalaysia.com. To stay up to date please visit our Facebook page at www.facebook.com/caterhammotorsportchampionship.